Press & Testimonials
TESTIMONIALS:
I am the costumer of the Mendocino Ballet Company. We Purchased 2 colored classical rehearsal tutus for Nutcracker last fall. One is Pink and the other is Red. I turned them into Spanish and Rose Queen. They don't look like rehearsal tutus to us! They are beautiful and we absolutely love them. They are so well made and adjust enough to fit all of our girls. Being a small company we have changed the over skirt on one of them to use it in our spring show. I will take it back to the Rose Queen costume next fall for Nutcracker. We are very pleased to have found Tutu Etoile.
Susanna Cummings
Our tunics fit beautifully and the dancers have enough room through the back and arms for partnering.
Joy Capponi,
Artistic Director, Philadelphia Dance Theatre
Tutu Etoile has designed and built tutus, dresses, tunics and headpieces for our school and student company for over eleven years. We keep returning to Lydia because we know we will receive a beautiful, professional product that lasts many seasons. As further testimonial to the high quality, many of our male guest artists ask to rent their Tutu Etoile tunics from us when they guest for other companies. They love the fit and feel they flatter their lines. Thank you, Tutu Etoile!
Kit Ashleigh-Dean,
Director, South Bay Dance Center,
Artistic Director, South Bay Ballet Arts
Thank you so much! The head piece is just beautiful!!!
I will certainly be visiting your site again! Thank you so very much.
Jennifer Henderson,
City Center Ballet, Choreographer and Costumer
I received the tunic you made for me today- It's absolutely perfect!! Thank you so much for accommodating me and giving our performance an added level of Professionalism. I will most certainly order from you again!
Heather Raue,
Director, Petit Pied, Inc.
Alanson, MI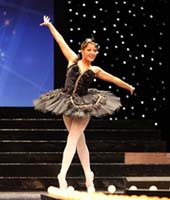 Tutu Etoile made my talent costume for the Miss Virginia 2011 competition during which I performed a variation entitled, "A Swan is Born" from the classical ballet Swan Lake. Lydia and her team created the PERFECT costume for this. The detail and intricacies of the tutu were gorgeous. Every time I perform in it, I receive compliments about how stunning the tutu is. Also, the fact that her tutu was much more affordable in comparison to competitors made it even more wonderful!
Kourtney Ginn
Photo by Claire Buffie Photography & design
I have to say that working with Tutu Etoile is a pleasure. Lydia and her staff are courteous, helpful and prompt in answering emails and voicemails. Our orders have been delivered on time if not before. The costume sand headpieces are beautiful and the workmanship is exquisite. They will be the first call made for our costume needs. Thanks, Tutu Etoile!
Stacy Trickett, Savannah Dance
Thanks again Lydia for all of your help:
For working out the design details!
For the wonderful discount!
For the wonderful discount!
And for the super fast delivery!
Betsy Youmans,
June Taylor Dance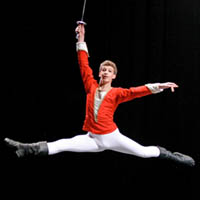 Our recent Nutcracker jacket created by Tutu Etoile was an elegant accent to our 2011 performances. I will absolutely order from Lydia again! She was highly professional, accommodating, and timely. The tunic we designed over the phone together came to me ahead of schedule and beyond expectation. Thank you Tutu Etoile, I look forward to my next order!
Heather Raue,
Director of Dance Crooked Tree Arts Center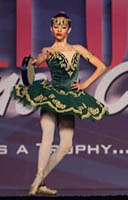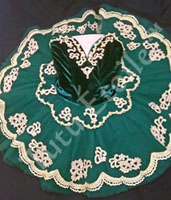 Dear Lydia,
I just LOVE, LOVE, LOVE the tutu you made for Jessy. I was more than thrilled that I found you, that you were able to meet my very tight deadline, that you always got back to me immediately, and above else you were so professional from start to finish! The tutu had everybody turning their heads and made Jessy feel special. The tutu was worn at three competitions and at all the competitions the judges made a special comment on the beauty of the tutu. The competition that the tutu was worn at (picture attached) was Hall of Fame in Niagra Falls, NY. The tutu was definitely the most beautiful thing that she has ever worn. Thank you so much and please share my name as a referral with anyone wo wants reassurance of your work and professionalism. I would recommend you to the most discerning client with confidence.
Sincerely, Jody Lipke